BE SAFE & FOLLOW OUR EXPERT TIPS
HOW TO SAFELY STORE YOUR HEAVY AND LIGHTWEIGHT ITEMS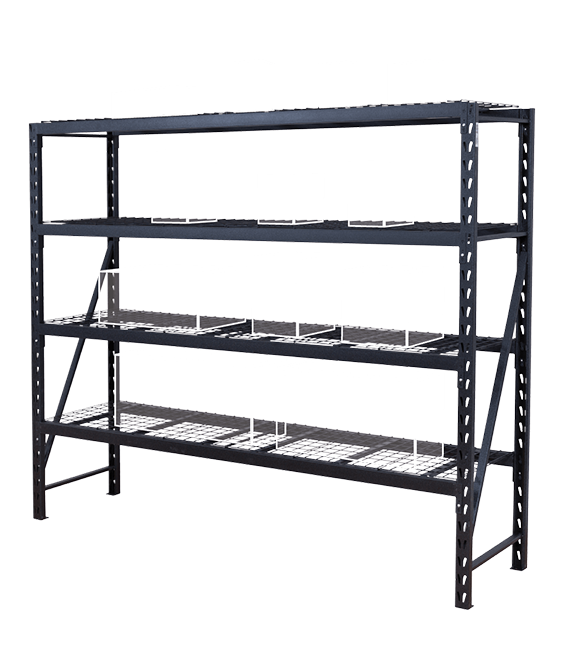 DO NOT EXCEED 1000 KG PER SHELF EVENLY DISTRIBUTED
The Rack It 1000KG system is tested to hold 1000kg per shelf, evenly distributed, for a total weight bearing of 4000kg per bay
DO NOT EXCEED 400 KG PER SHELF EVENLY DISTRIBUTED
The Rack It 400KG system is tested to hold 400kg per shelf, evenly distributed, for a total weight bearing of 1600kg per bay
SAFETY FIRST!
Weight that is concentrated in the centre of the shelf will reduce the shelf capacity.
Load small, stable items on the top shelves. Heavier and bulkier items should be stored on the lower shelves. Load the unit by placing objects from bottom to top. This will ensure overall stability of the unit. Safety pins should be used at all times to prevent beams from lifting.
Never climb or stand on the unit. Always use a ladder.
Not intended to be used by children.
Do not alter the product in any way as it could compromise the performance of the unit as intended and will void all warranties.
DO NOT EXCEED 100 KG EVENLY DISTRIBUTED
Total weight loading for the Rack It WALL Starter and Add On Kit must not exceed 100kg each, including items loaded onto Hooks and other Accessories.
Adding such Accessories does not increase weight loading capacity.
BRACES
For complete strength and to enable your systems load rating, ensure you use the correct amount and type of Support Braces per shelf.
Each Support Brace correlates with a systems Beam and Upright. See our Beams and Braces pages for more details.
SAFETY PINS
Use two Safety Pins for every Beam to prevent shelving from becoming unhitched from Uprights.
All beams require 2 safety pins for safe operation.
ANCHOR YOUR SYSTEM
THIS PRODUCT SHOULD BE ANCHORED TO THE GROUND OR WALL TO AVOID SERIOUS INJURY OR DEATH.
To help avoid any serious injury or death, this product has been fitted with a ground mounting bracket to prevent toppling.
We strongly recommend that this product be permanently fixed to the ground or wall.
Fixing devices are not included since different surface materials require different attachments.
Please seek professional advice if you are in doubt as to which fixing device to use.
Check anchors regularly
OUTDOOR USE
Even though Rack It is manufactured from high quality steel with a durable powder coated finish, it is not recommended for outdoor use. When exposed to outdoor or marine environments, powder coatings can resist corrosion, abrasion and chemicals – but only up to a certain threshold.